Flat Light
Meet the charming Flat Light.
True to it's name, the Flat Light has a slim figure fit for windowsills or shelves. With the included hook it can also be fixed to walls.
The cute little lamp is available in three colours - white, yellow and red - and as a set of all three.
Like it's siblings, the Flat Light is made of durable plastic, and uses an energy saving compact fluorescent bulb (included).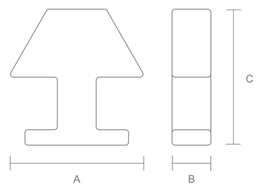 Measurements:
A: 22 cm
B: 6,5 cm
C: 22 cm
Bulb included:
9W E14 compact fluorescent
Colours:
red, yellow, white