Eero Aarnio
The Finnish designer Eero Aarnio (b.1932) is one of the great
innovators of modern furniture design.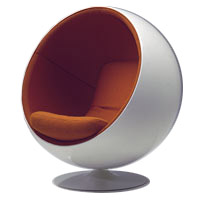 Ball, 1963
In the 1960s, Eero Aarnio began experimenting with plastics, vivid colors and organic forms, breaking away from traditional design conventions. His now iconic plastic creations include the Ball (1963), the Pastil (1968), and the Bubble (1968) chairs which echo the pop culture and spirit of their time.
Many of Aarnio's works are included in the world's most prestigious museums, including the Victoria and Albert Museum in London and the MoMA in New York.
Co-operation between Melaja Ltd and Eero Aarnio started in 2003 with the Double Bubble lamp, and the Studio Eero Aarnio collection has since grown yearly.
More information on Eero Aarnio and his designs can be found on his personal homepage.