Workstation
Designed by Eero especially for comfortable creative work, the Workstation supports it's user perfectly when reading, writing or using a laptop computer.
The backrest's tilt can be easily adjusted from full upright position to well-deserved-nap position. The backrest can also be folded on top of the seat for a smaller footprint.
The Workstation is available in graphite fabric and chrome. Other upholstering options are possible.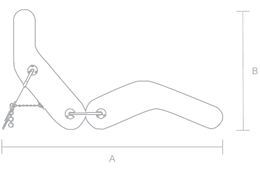 Measurements:
A: 165 cm
B: 90 cm
Width: 67 cm
Upholstering:
Grey wool fabric
Metal parts chromed