Cake lamp
Despite it's delicious appearance, this cake is not edible. The Cake lamp's simple and timeless shape makes it suitable for all rooms.
Cake lightens it's surroundings beautifully and unlike many other ceiling lamps, it illuminates upwards as well. Cake is made of durable and recyclable plastic and an energy saving fluorescent bulb is included.
NEW! Now available also as a plafond.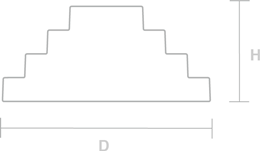 Measurements:
Diameter: 70 cm
Height: 35 cm
Bulb included:
E27 9W, 806 lm LED bulb