DOUBLE BUBBLE LAMP (TUPLA KUPLA)
Eero Aarnio designed the Double Bubble lamp in 2000. After having some prototypes made from blown glass, the designer ultimately decided on a plastic material to ensure durability and uniform colour of light.
The finished product was first presented in 2003 at an exhibition celebrating Eero Aarnio's career of 50 years.
The Double Bubble lamp is available in three sizes, two different size table lamps and a sculptural standing piece (also for outdoor use).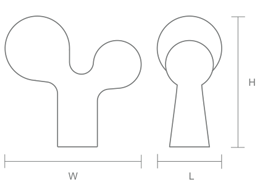 MEASUREMENTS:
S: W=40, L=19, H=37 CM
M: W=58, L=28, H=53 CM
XL: W=135, L=63, H=130 CM
BULBS INCLUDED:
M: 3 X E14 6W, 470 lm LED bulb
XL: 3 X E27 9W, 806 lm LED bulb